Hi,
A slightly different blog post this time, but bear with me it will make sense in the end!
If you have read "From Cancer To Coddiwomple" you will know that I fulfilled a lifelong dream in 2015 when I attended the world famous 24-hour sports car race at Le Mans.
I'm sure there are also a few people reading this that are a bit bemused by the fact that I would be so obsessed with a motor race! Coddiwomple explains it in more detail but I felt inspired to write this post after watching some of this year's event on the TV last weekend. I still got that goose bump feeling when the winners crossed the line.
Although I loved watching F1 as a child, it was sports cars that always grabbed my attention the most. I can't pinpoint exactly why; I think it was a combination of their shapes, their noise and the impressive spectacle they produced. I had also seen the iconic film "Le Mans", starring Steve McQueen, which I was mesmerised by (I still am!)
My parents were huge motor sport enthusiasts and my Dad was a well respected (and sometimes feared!) Steward, Clerk of The Course, or Race Director for National and International race meetings.
Because of this I got my first opportunity to attend a World Sports Car race on 29th July 1984 when I was 15.
It was the British Aerospace 1000km meeting at Brands Hatch. Dad had been asked to be Assistant Clerk Of The Course for the weekend. The event took place over 3 days and he came home after the Friday Practice session enthusing about the cars and the people involved and announced that Mum and I could attend on the Sunday and make ourselves at home in the Steward's Room, behind the pits and Control Tower. (For those who remember the old layout of Brands, this was a Portakabin situated at the entrance to the rear of the pit garages.) He also brought home a postcard of the Canon sponsored Porsche 956 and told me:
"You'll like these. They're the big b*ggers that do Le Mans."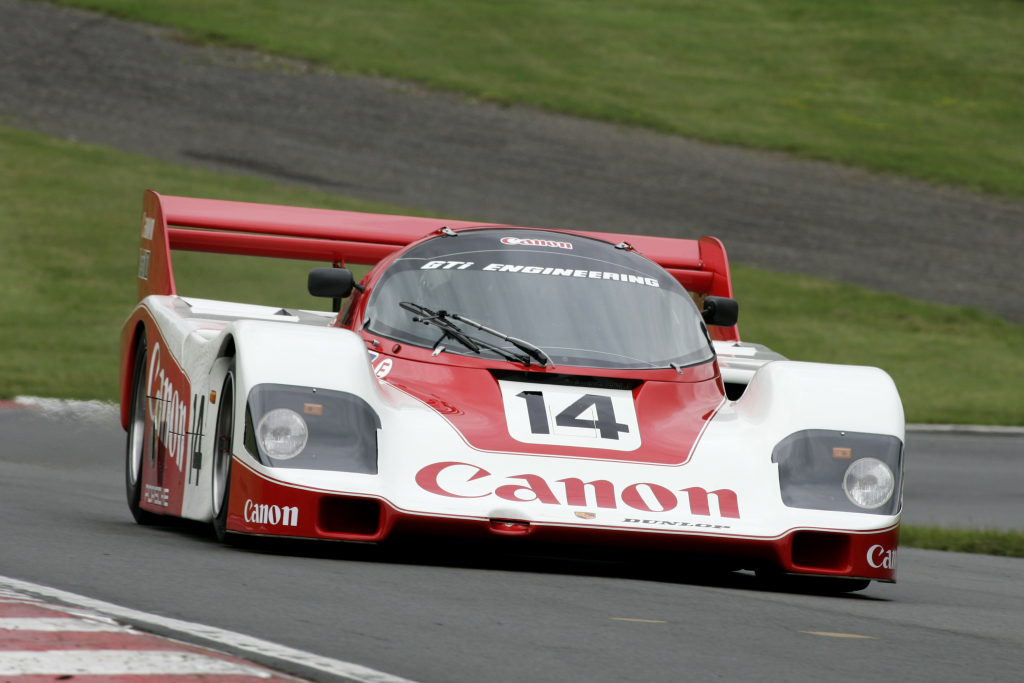 Up until then Mum and I were always banished to South Bank because I was under the circuit owner's "Age of Consent" to be allowed in the pit complex.
Dad never liked to mince his words! My heart skipped a beat and that was it; roll on Sunday!
Therefore I was more than just a little excited to be allowed into…or at least what it seemed to be to a star struck teenager…the Inner Sanctum.
I remember the day being blisteringly hot. We had to be there very early so that Dad could attend various meetings with FISA (the sporting branch of motoring's governing body) officials before any track action commenced. Even at 7.30 in the morning the circuit was buzzing with people and a unique atmosphere was building. The Pit Walkabout took place at 9am and I had never seen so many people stream into the pit lane before. It was like a huge army of ants!
Warm-up for the Big Race commenced at 10.15. I wasn't prepared for the sensory onslaught on my ears and eyes; the noise was phenomenal and I was left speechless by the immense size of these cars. I had only seen pictures or watched them on TV so I hadn't grasped the scale of them. I sat on the steps outside the Stewards Room and watched and listened to them peel around the top of Druids hairpin, drop down into Graham Hill bend and scream along Cooper Straight and then get lost from sight behind the trees on the Grand Prix circuit. Magical.
After 40 minutes they were all back in their garages and the place seemed to go eerily quiet. However, a support race (MG's) soon put a stop to that, although I don't remember much about that. Apologies to any MG enthusiast but they just didn't float my boat!
During that time the Steward's Room had started to fill up with various foreign official VIP's, which was quite entertaining. My schoolgirl French and German caused quite a few giggles during the course of the day and friendships were formed that went on to last well into my adult life.
The main event commenced at 12.30; by then the air of anticipation at the circuit was at fever pitch. The cars had already started their engines and had filed out on to the track. The word deafening doesn't quite cut it as the sound seemed to ricochet off the main grandstand to the walls of the pit complex and rattle around somewhere in the middle. I watched them all bunch up behind the Pace Car and form an orderly crocodile for their formation lap. The memory of that lap will stay with me forever; I got goose bumps, despite the heat, especially once the noise reached its crescendo as the Pace Car peeled in to the pit lane to unleash them for their 238 laps.
Strangely, I don't remember much about the race itself. I sat on the steps of the Steward's Room, in the shade just trying to take in absolutely everything, which of course is impossible. I do remember thinking that it was quite hard to follow an endurance race when you couldn't see a scoreboard properly!
Porsches claimed the three podium positions so I was happy!
I expected everything to go quiet once all the celebrations and presentations were done and dusted. How wrong I was! The pit garages came alive once more as the teams started packing up and the area buzzed like a busy beehive.
There is a period of time after every race where results remain provisional so that various post-race scrutineering checks can be done or protests lodged to the officials of the meeting. Needless to say this occurred, although I can't remember whom with. A late night ensued! Dad and the rest of the Powers That Be were ensconced in a meeting room whilst the rest of us watched the paddock area being dismantled and vacated. Soon the pits were empty and the circuit took on a ghostly silence. The local rabbit population were enjoying the peace and quiet and feeding on the grassy areas and birds swooped in to roost. Mum, me and a couple of others sat outside in the dark dividing up the various huge flower arrangements that had been thoughtfully provided to make the place look more homely. We were finally able to leave at about 11.00pm. I was tired but I didn't sleep well that night; I was still buzzing.
I dreamed that I WOULD go to Le Mans one day…that dream came true nearly 30 years later.
Motor racing was a huge part of my early life and it still draws me in but not in the way it used to. It's just not quite the same without Mum & Dad around…
However, my times at Brands Hatch taught me a great deal about how important it is to follow your passions and do what lights you up. It is a belief I still live by today.
So what is the moral of this story?
Never be afraid to dare to dream…they can come true!
Until next time stay well and keep smiling,
Wxx