How often do you step out of your Comfort Zone?
 If you do, how does it make you feel? Is it good for you?
The inspiration for this blog post came while Tim & I were recently coddiwompling around Wales and The Lake District.
I also gave my first ever public speaking gig about my book "From Cancer To Coddiwomple" to the Friends groups of St Barnabas House hospice  the night before we departed for our holiday.
I admit that I had been bricking it! I've never been one to put myself above the parapet and I was worried I would waffle or dry up. However, I had enlisted the help of a wonderful public speaking coach called Aly Harrold who guided me on all the preparation I needed to do. Yes, of course I was still nervous but Aly gave me the building blocks and ingredients to help me deliver a great talk. I had some wonderful feedback afterwards, and I enjoyed the whole experience.
I was excited about our holiday. We had booked a night in Hay-On-Wye, two nights in Snowdonia and then three nights in the Lake District.
The whole point of touring this area was to climb Mount Snowdon. It is something Tim had wanted to do for a while and it was important to him. I wasn't quite so fussed but I knew it would be an achievement I could be proud of so I went along with it. I knew we weren't going to do it "the easy way" (Tim doesn't do "the easy way"!) and we had practiced during the previous weeks with high intensity cliff walks from Fairlight to Hastings and back again. Therefore I was quite confident in my fitness levels.
Tim had plotted our Snowdon trek via the Miner's Track and the PYG Track. I did some research on the Snowdonia National Park's website and was a bit worried to read that they catagorised these paths as Hard & Strenuous and that the PYG Track "should not be attempted by novice walkers."
We set off early on the day of our climb in order to find a parking place and get a good start. The weather was a bit grim; low cloud and drizzle, but that can be okay for walking. The first two thirds were fine, well within my comfort zone and I was pleased to see the clouds parting and lifting. I loved the feeling of connecting with nature and the spectacular views.
Then I got my first glimpse of the last section: the PYG Track. Tim pointed and quietly said "that's where we're going, sweetie." I was horrified! It was a vertical, rocky wall! But I was determined to give it a go. What I hadn't bargained for was an onslaught of vertigo though. I had never experienced it before and I don't mind admitting that I was terrified. I was shaking like a leaf and my stomach was knotted. I felt light-headed and had the feeling that I was being pulled backwards or sideways. Either of those would've been disastrous so I kept my head down and took each step one small one at a time until we reached the summit. I was NOT going to give in, as I didn't want to let Tim or myself down.
Once at the top we had clear skies and more spectacular views (as well as a delicious hot chocolate and snack in the café) but I couldn't fully appreciate it because I knew the next bit was going to be just as bad, if not worse: getting back down.
With a racing heart, sweaty palms and wobbly legs I trudged behind the reassuring presence of Tim. He was the essence of calmness, gently coaxing me where to place my feet or whether to come down some small sections backwards. I certainly wouldn't have managed it without him but if I'm honest, if it wasn't for him I wouldn't have been there in the first place!
Slowly but surely we picked our way down the mountainside and I can't put into words the relief I felt when I spotted our car in the car park. It felt like it welcomed us back with open arms (well an open roof at any rate!)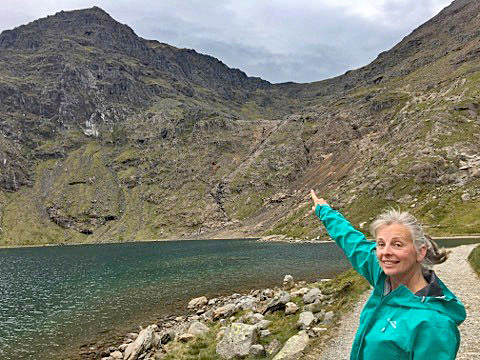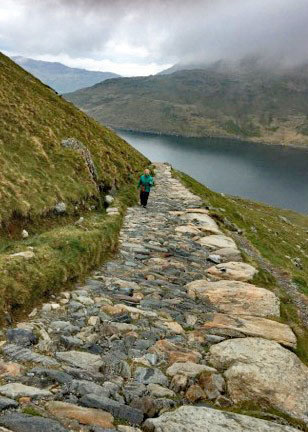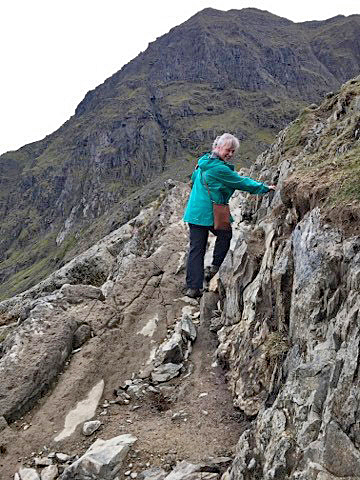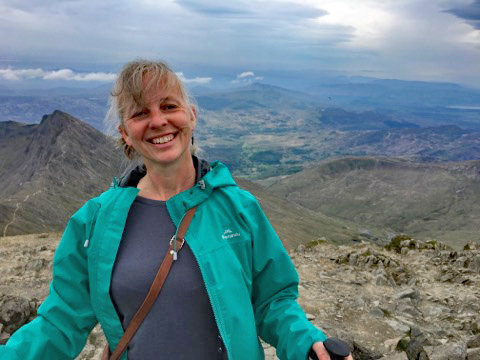 This "adventure" had taken almost 5 hours (hence why we started early.) Tim remarked that we had "earned our glass of wine" that evening. My response was a bit earthier: "One glass?! I want a whole f***ing bottle, if not two!" In fact we had just one bottle and it was indeed very, very nice.
 Am I glad I did it?
The short answer is yes I am. I pushed myself beyond what I thought my capabilities were and achieved something momentous.
 ****
The next leg of our Coddiwomple was the Lake District, which I was excited about because I had never been before
We stayed in a B&B near Coniston Water, the scene of Donald Campbell's ill-fated speed record attempt in "Bluebird." My initial views of the lake took my breath away; mountains meet lake in spectacular fashion. I could also visualise "Bluebird" speeding across the lake and I felt goose bumps prickle my arms and the back of my neck. In fact I'm feeling them again as I write this one week on from our visit.
The location provided us with perfect access to what we wanted to do, and yes this included another walk. This time it was a National Trust walk Aira Force and the Gowbarrow Trail. I was looking forward to it as we had had a long drive the previous day from Snowdonia to the Lakes.
However I hadn't bargained on another steep climb! Cue another attack of vertigo. Thankfully this climb was only a few feet and the feeling swiftly passed. I was able to appreciate the views across Ullswater from the top a lot more than what I saw from Mount Snowdon. We spoke to other walkers who advised that the path back down the other side was good and afforded spectacular views of the lake. Feeling reassured I was disappointed to soon discover that the vertigo crept back. There were sheer drops to the left of me and I was convinced I was being pulled towards them: we were so high up. Again, I just kept my gaze down, looking at the ground in front of me and picked my way slowly forwards. It wasn't until we were nearly at the bottom I looked up and remarked to Tim: " Oh look, scenery!" It was indeed very beautiful.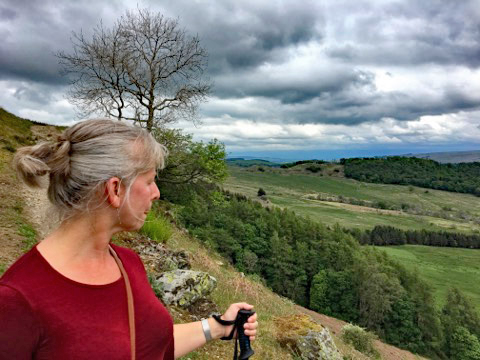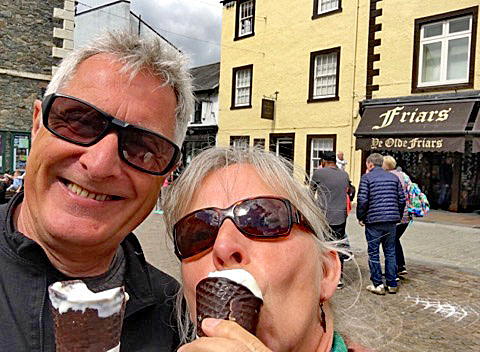 Later that day I compared the different experiences I'd had during the previous week: my talk and these climbs. Each was equally as scary but in different ways.
In fact it was Tim who succinctly summed it up:
"Each is an achievement in their own way. It's just that with one, the worst you can do is make a tit of yourself but with the other there is the prospect that you could die!"
Yeah, thanks for that!
So what did I learn about myself?
Well, the obvious one is that I'm not a natural climber and I don't do heights very well.
Do I want to do anymore mountain or fell climbs?
No, I most certainly don't! I don't like how it makes me feel when I'm doing it.
But would I do it again?
Yes probably, because I believe we grow in character and spirit by pushing ourselves beyond our fears.
Having said that, I'm not planning on doing anymore for a while!
And yes I did love the Lake District and want to go back.
Until next time, happy Coddiwompling!
Wendy x