Hello there!
Welcome to my first blog post as The Coddiwomple Lady! I intend to keep this space fun and light-hearted for you to enjoy over a cuppa or in a coffee break.
As I am typing this post there are signs of spring everywhere; daffodils are blooming, trees are in bud and bursting with green, the birds are singing louder and the days are getting longer. What better time to start a new blog and Adventure than Spring?
Goodness, what an incredible journey it has been to reach this point. Never in my wildest dreams did I imagine that a journal and some blog posts to friends & family while I was travelling would lead me here. 
In true coddiwomple style, I have no idea where this particular adventure is going to take me (or you the reader!) but I hope you will join me here and keep me company. I already have so many ideas to share!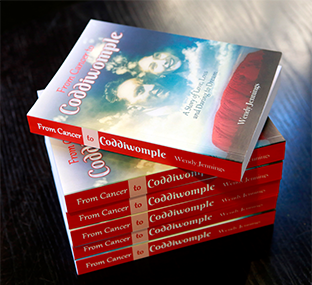 My book "From Cancer To Coddiwomple" is just the beginning. Through writing it I have found a purpose in life and I believe it is what I was put on this earth to achieve.
Mum & Dad have left me a wonderful gift and because of the book they will live on in heart and mind. It has two purposes: one is to enable to me to be able to give something back to St Barnabas House hospice in Worthing, Sussex and shout their praises wherever I can and the other is to raise awareness of the signs and symptoms of ovarian cancer.
 My parents were strong characters and faced their ordeals with courage and dignity. I feel so grateful and blessed to have had them as my parents and I so hope they are looking down at me from their little clouds without too much despair and mutterings of "stupid child"! I also hope I have inherited some of that courage and character.
This is how I've arrived to be doing what I'm doing now.
Thank you for reading this and I look forward to sharing more coddiwompling stories, random observations and getting to know you all over time.
Until next time…
Wendy xx